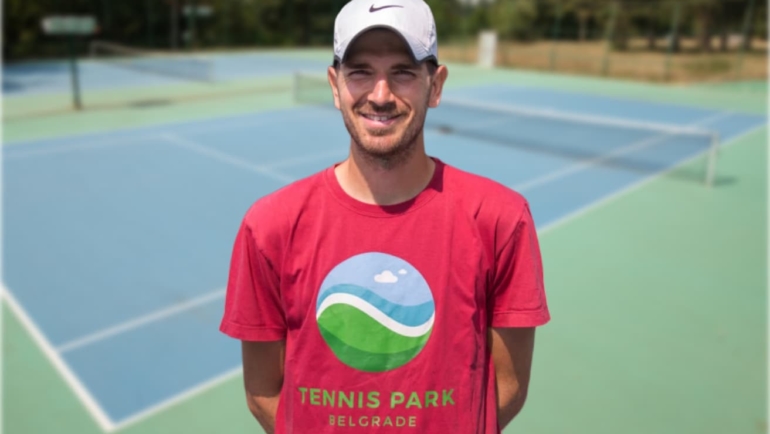 Goran Krivokuca
Brief info
Sports experience
Goran started playing tennis when he was 7 years old.
Coaching experience
Goran has been a tennis coach with an international experience since 2007. He holds the ITF licence, category C & B and has graduated from Senior Tennis Coaching School. He was Head Junior Coach at Tennis Club Lokomotiva, and then took on the role of Head Coach of all teams at Tennis Club Trim. Up to this date, he collaborates with tennis clubs in China where he educates coaches and assists several tennis clubs organizationally. In the last couple of years, he enjoyed organizing summer camps for locals and internationals and he did so at Tennis Center Novak, Tennis Club Partizan and on the beautiful mountain Zlatibor.
Athletes mentored
Bojana Jovanovski, WTA 32 (2015-1019) Goran mentored Bojana to her Tashkent Open semifinal, semifinal Tianjin Open, 3rd round of US open, quarter-final Masters tournament
Dorotea Eric, WTA 250
Dunja Sunkic, WTA 696
Miki Jankovic, ATP 350
Kristina Ostojic WTA 860
Iva Pantovic, National Champion (up to 14 y.o.)
Vladimir Hakac, National Champion (up to 12 y.o.)
Milica Novakovic , ITF 500
Bojan Jankulovski, Macedonian National Championship ( up to 12,14,16,18 y.o.)
Borna Devald, Best Croatian Tennis Player andOrange Bowl Champion (up to 12 y.o.)
Pavle Bugarcic, Best player (selection up to 10 y.o.)
Petar Spasov, Best player (selection up to 10 y.o.)
Ognjen Gajic, Best player (selection up to 10 y.o.)
Personal accomplishments
Goran founded Tennis Park Belgrade.
In 2006 he won his first ATP point, in 2007 he held his best ATP ranking 1389. In his earlier days, he held the 4th place in the national ranking, in the category of up to 16 years old.
Spoken languages
Fluent in Serbian and English, working on his Chinese language.
Fun facts
In the last couple of years, he focused his passion on nutrition and working with children, both of which he enjoys sincerely.